Well I started the school year with 14 on my class list and by Friday I will be down to 10! I've never had such a low number. Another teacher has 11! This means we'll get all the new kids. So crazy how things change in just under a month of school.
Anyways, today I did a fun lesson with punctuation. I got this off of my latest discovery-

www.writingfix.com

. It has great lessons for the six traits of writing. I did tweak it so that it's a bit more simple for my friends. First I read the book

Punctuation Takes a Vacation

. It's a fun book about how some of the basic punctuation marks take off and are missed by the class. The punctuation marks write postcards to the class and they have to figure out which punctuation mark wrote it.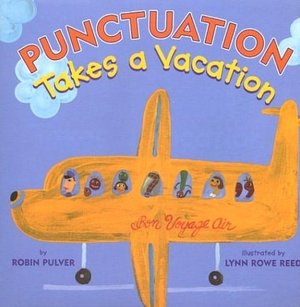 After reading the book I asked the kids if they have ever seen the movie The Incredibles and of course most had. If you haven't seen it, each of them has a super power. My class had to create a family of four (The Punctuations) and each member had to have one of the powers of the following punctuation marks: period, question mark, exclamation point, and comma. The family member had to say something using the power of that punctuation mark. We created one family member together first before I let them do it on their own. They divided a page in their writer's notebook into fourths and each box was for one of the family members. Here's a picture that one of my friends made. It's not the best pic, sorry!
This was a great lesson for conventions but can at the same time be used for ideas. In fact one of my friends asked if he could write a story about it when he was done. Love that! Do you have any fun lessons you teach for conventions?